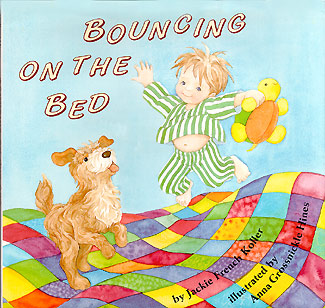 Bouncing on the Bed is the first book I have illustrated that has not been written by me or someone in my family. With Gary's books and the Bean books written by my daughter Sarah, I was familiar with the words right from the beginning. I read drafts of their stories, knew what experiences inspired them, and what they had in mind as they worked. When I started on the Bean illustrations I had the same black cat in mind as Sarah did. As I worked on my husband's books he was able to show me photographs of old trains, steam donkeys, loggers, helicopters, and firefighters at work.

I have spoken with Jackie French Koller on several occasions, but I had not seen, heard about, or read the words to this story until they were handed to me by Dominic Barth, then an editor at Orchard Books. At first I was reluctant to take on the job. The rhythm and exuberance of Jackie's words appealed to me, but illustrating a book takes a lot of time. When I illustrate my own stories I get all the royalties, usually 10% of the book's selling price. When I illustrate somebody else's story I get half and the writer gets half. Although writing a picture book is not easy, it takes a lot more time for me to illustrate a book than to write one. I was tempted to show the editor some of my own stories that I haven't sold yet, or even try writing a new exuberant text for him, but that hardly seemed fair. He was looking for someone to illustrate this story--Jackie's story. Could I make it my story, too? The text is fun, but very simple. The pictures would have to do a lot bring the words to life. I wasn't sure I could do that or even that I wanted to spend that much time doing it for half the money. But the editor really loved my art. He felt it was exactly what this text needed. Having just given up illustrating My Own Big Bed and the four board books about the weather because that editor thought my art was not right, Mr. Barth's words were very encouraging to hear. This was a chance I couldn't pass up.

The first thing I had to do was get to know the happy little kid in the story. Was it a boy or girl? How old? What were his parents like? He must have nice parents to be so happy and carefree, parents who enjoyed him and let him be an exuberant little kid without interfering too much. I thought they'd probably have a pretty good sense of humor and enjoy doing some of the same things. Jackie mentions Mom at breakfast saying, "Sit still and eat.," Later there is cooking with Mom, Mom peeking and grinning at bath time, reading with Dad, and the goodnight "hug for Mom" and "kiss for Dad." A dog was mentioned, too, but only on one page. I worked very hard on the first dummy I did. I showed Mom or Dad or both working in the background as the child ran, rolled and danced. As he splashed Mom was dipping her toes in the water, too. The dog joined the child on every page as well. It was a whole happy little family. But the editor was not happy. His idea was that in this idyllic world Mom or Dad would not have to be in sight to keep the child safe. The little boy could run, dance, roll, and splash in a totally carefree way without parental supervision, no matter how loving and non-interfering. He wanted more exuberance and a lot less complication. He was right...at least partly right. Fortunately, he did like the dog.

I set to work uncomplicating things, but argued to keep some of my additions. I didn't want Mom doing all the work--supervising breakfast, and later cooking, so I gave Dad bath duty. And I wanted both parents to be not just loving, but fun-loving. So Dad adds to the bath time by singing with gusto. His sense of mischief shows in the breakfast scene, too, where he encourages the child to "wiggle" by opening his mouth to be fed. And Mom enjoys a taste of pudding from the pan as the child licks the spoon. Then as Mom gets her hug, Dad's kiss comes from the dog, although I'm quite sure he also get one from the child. At the end I just couldn't resist having this happy little guy sneak in one last bounce after "light's out". I doubt this is what Jackie intended, but I hope she doesn't mind.

A Note from the Author, Jackie French Koller
Why I wrote Bouncing on the Bed
Two years ago, my brother and his wife announced that they were expecting their first baby. We hadn't had any babies in the family in quite a few years, (mine are all grown) so I got very excited thinking about having a young child in the family again. I thought about how busy and filled with activity a young child's day is, and I decided to write a book for my new niece or nephew that would refect a full day of toddler-type fun. Bouncing on the Bed is the result and I think it's a great book for moms and dads to share with their busy toddlers. It's full of familiar sights, sounds, and activities - following a toddler from dawn to dusk. It's a fun book to move to as well - great for getting the "wiggles" out of a story hour crowd! By the way, my brother's baby turned out to be a little boy named Noah, and Noah is now a busy toddler himself. I was quite astonished when I saw the illustrations that Anna Grossnickle Hines did for the book, because even though she's never seen Noah, she drew a little boy that looks enough like him to be his twin!
Jackie French Koller has her own webpage.
With simple words and clear, light-filled watercolors, this picture book features a toddler who acts out an idyllic day, from bouncing on the bed at sunup to snuggling down at bedtime, "happy to be me." Each doublepage spread shows a joyful activity - sliding down the stairs, wiggling, running, rolling, splashing, dancing, hiding, playing, singing. Sometimes Mom and Dad are there: cooking ("She stirs the pot. I lick the spoon."), reading ("He says the words. I turn the page."), and a small dog is in every picture ("I throw a stick. He fetches it."). The sounds of the words with repetition and occasional rhyme are part of the sense ("Thump, thump, thumpety"), and, like Zita Newcome's Toddlerobics (1996), this will have young preschoolers joining in the playful movements and chanting along. Ages 1-4.
Hazel Rochman, Booklist, February 1999
An energetic preschooler bounces, slides, wiggles, runs, dances, hides, cooks, sings, and reads through the day--- and finally snuggles in bed with a hug and kiss from his parents. Lively sun-drenched watercolor paintings on double-page spreads show an inviting summertime world. The outdoor scenes are filled with grass and flowers as the round-faced, blue-eyed child and his shaggy-haired dog splash through a brook and roll down a hill. The indoor scenes are more peaceful and cozy. Each phase of the day --- waking, eating, playtime, bathing --- is described in a short rhyme that uses the same verse form as "The Farmer in the Dell." "Bouncing on the bed,/I'm bouncing on the bed./The sun is up,/The day is new./I'm bouncing on the bed." (The text could be sung to the same tune, too.) With the large pictures and the familiar activities described, this book would be a good selection for toddler time, and the infectious rhythm of the verse will invite participation from pre-school storytime participants. Marian Drabkin, School Library Journal, April 1999