If ever there were a perfect book to curl up with on a cold night, this is it. With both humor and poignancy, Hines (Pieces: A Year in Poems & Quilts) again puts on display an astounding amount of effort and craftsmanship in a collection of child friendly poems and custom-made quilts that feature striking images of winter light as it's experienced around the world. From Christmas trees and decorative farolitos to a Hanukkah menorah, from a bold full moon to the aurora borealis, her artistic interpretations of light emerging from winter darkness sparkle, and will likely dazzle readers. An end section about quilt-making (and the lore of light) should also fascinate fans. Ages 5-up. PublishersWeekly



Winter is the time of lights, and Hines celebrates the season in thoughtful poems and pictures of gorgeous quilts full of bright, beautiful colors. Christmas is only one of the light-producing celebrations that Hines illuminates. The feast of Santa Lucia, Hanukkah, Kwanzaa, and the Chinese New Year are spectacularly introduced with short bursts of poetry and quilts that capture the spirit of the day--a Hanukkah menorah, for example, colored all blue and gold, is set against thin, blue stripes of different fabrics, giving depth and weight to the holiday feeling. Two of the most beautiful spreads are not about holidays at all. A black background with a burst of starlight marks the winter solstice, and amazing shifts of colors across two pages evoke the Aurora borealis ("A billowing curtain of swirling, swooping light"). Christmas is elaborated upon in several pieces, the most handsome highlighting farolitos, paper bag lanterns said to light Mary and Joseph's path. The back matter, of most interest to adults and young quilters, explains in words and photos how the quilts were made. A lovely follow-up to Hines' Pieces: A Year in Poems 6- Quilts (2001). -Ilene Cooper, Booklist September 1, 2005

Booklist Editor's Choice for 2005



This combination of 16 poems and 15 quilts uses various adaptations of the log-cabin pattern design, colors, and words to emphasize the contrasts between the warmth of light and the coldness of dark during winter. The selections, which highlight holidays such as Santa Lucia, Hanukkah, Christmas, Kwanzaa, and Chinese New Year, as well as events like the winter solstice and the aurora borealis, appeal to a wide variety of ages. This is a distinguished collection that the whole family can enjoy together. Gr 2-5-
-M W. School Library Journal



Hines's art is quilted; here she makes astonishingly beautiful images in her quilts and uses them as illustrations for a wreath of poems about winter celebrations, light and dark, in the Northern hemisphere. Amazingly, she can create the sense of glitter, flash and flame in pieces of cloth. She honors St. Lucia, Hanukkah, Kwanzaa, Solstice and many other images of the season: the aurora borealis, farolitos, Christmas tree and house lights. A poem about icicles-"Overnight / an icicle grew, / catching the stars / above my window. / Now / in the sunlight / it / sets/ them / free"-is set over a mass of quilted stars made of more than 8,000 tiny triangles of vibrant color. A three-line poem called "Fireplace" shows quilted flames dancing like tiny elves. A small child protests the sun's going down so early in a snow-covered landscape of quilted pattern and opalescent glow. A sparkling read-aloud choice for the holiday time of year. (author's note) (Picture book. 5-9)
-Kirkus, November 1, 2005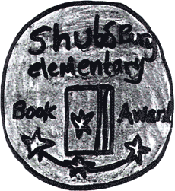 Shutesbury Elementary Book Award!

This special medal was designed and awarded by Felicia, Eliza, Josh, Kieren, Riley, Abby, Makayla and JJ, from Ms. Cannon's Second-Grade Class at Shutesbury Elementary School in Massachusetts.

"We really liked the illustrations. They are really good quilts and we liked the colorful designs. The poems are very interesting. Eliza thought the poems were 'as dazzling as the sun.' The quilted illustrations made us feel happy."


"Holiday High Notes- the best new books of seasonal interest".
Sixteen poems depict several winter holidays and a few features of cold northern weather. The ambitious art is the real draw: each spread is illustrated with a quilt designed and sewn by Hines. While some poems are accompanied by appliqued shapes creating a representational winter landscape or holiday scene, most of the quilts employ traditional pattern techniques. Within these geometric designs, Hines uses careful fabric choices to create recognizable images full of motion-and emotion. The variety of poetic forms and the simple language will make this book useful in the classroom, but with luck, Winter Lights will be enjoyed not just at school but also when curled up at home under a quilt.
-Lolly Robinson, Hornbook, November/December 2005


See another review and aritcle in Maria Michaels Designs Newsletter, November 2005


"With her quilt pictures and her simple but elegant poetry, Anna Grossnickle Hines has turned a corner into the Extraordinary. Winter Lights is stunning. What the reader discovers is the thoughtful placement of words and pictures that bring the season of lights to life, whether that season contains Christmas, Chanukah, Kwanzaa, Nian -- or just snow." Jane Yolen's "Favorite Book of the Year" for Disney Online's FamilyFun.com:


Warm Winter Quilts: Here's a book for children you may just want to give to an adult friend or family member who loves quilts and quilting, too. Art quilts and accompanying poems in Winter Lights: A Season in Poems & Quilts, by Anna Grossnickle Hines, illustrate the Swedish Santa Lucia celebration, Christmas trees, Chinese New Year, the early setting of the sun, the dance of flames in the fireplace and more. Hines sometimes spent more than 400 hours per quilt, cutting more than 8,450 triangles of fabric per quilt, and all in all using more than 11 miles of thread in stitching the original quilts in this book. The resulting 15 colorful creations are magnificent. Washington Parent:



For stunning illustrations, nothing beats "Winter Lights: A Season in Poems and Quilts" (Greenwillow Books, $16.99). Anna Grossnickle Hines's verses are fun, but it's the quilts she designed and made to accompany the poems that dominate the 32 pages. Her Aurora borealis quilt defies description, as does her moon-lit snow landscape. It's almost impossible to believe these scenes were sewn, not painted. Children will glory in the grandeur. Adults will marvel at Hines' technical and imaginative skills. Given the infinite number of details, viewers could gaze for hours without taking in every minute variation in texture and hue. An explanation at book's end adds to, rather than clears up, the mysteries of creation. From youth to adulthood, readers will want to keep "Winter Lights," which will perpetually offer them something new to examine. Lois Henderlong - Lawrence Journal World: November 27, 2005



It took Hines 2½ years to finish the quilts she uses as the background for these poems about holiday light celebrations. Many of us are familiar with the light of a Christmas tree or a menorah. Sometimes on Christmas Eve a block can be lit with rows of candles in paper bags, or farolitos as they are called in the southwestern United States. Kwanzaa is celebrated with seven days of candle lighting. Hines also includes the natural lights of the moon and Aurora borealis. Not to be forgotten is the fun of the flashlight a child turns on under the covers for the pleasure of reading. The last few pages of the book include information about the work that goes into quilt making. What a beautiful way to illustrate the many festivities of this holiday season. Chicago Parent December 2005.



"Winter Lights: A Season in Poems & Quilts", by Anna Grossnickle Hines, is another of the author's talented picture books where she displays her incredible ingenuity in both verse and cloth. The poems span from "Holiday Magic. where stars, circles and moons intertwine with windows everywhere spewing the images of houses lit up during the holiday season to "Small Miracles" where Hanukkah is celebrated with eight flickering candles lit in a glow. Knowing that each illustration is really thousands and thousands of tiny threads quilted together with the genius of Ms. Hines is utterly amazing. But, in reading the poems that go with the quilts, you will soon loose yourself into the essence of each exquisite poem. This is a story for all ages. MeridianMagazine.com December 9, 2005



Imagine the lights on a Christmas Tree, a shining menorah, a sidewalk lined with farolitos. Visualize 15 exquisite quilts created to capture the luminous winter lights of Santa Lucia, Hanukkah, Christmas, Kwanzaa, and the Chinese New Year. Picture 16 graceful poems that illuminate the striking images of our darkest season. Read this very beautiful book to light up your holidays. Kathy Englehart, The Plain Dealer, December 11, 2005.